Recommended Maintenance that you can do yourself
CoLibrì have recently developed a maintenance procedure that could improve the performance of your machine and the quality of the cut of Eco-Shield covers. The use of this silicone oil is highly recommended, which is why we are asking all of our customers to perform this procedure to optimise the performance of their machines.
Free with all Welding Bar and Machine orders
The CoLibrì sachets contain a special "silicone oil" and will be included with all machine, and spare welding bar orders going forward, with no additional shipping cost.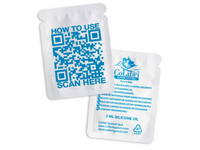 How to Apply

Silicone Oil Treatment
Step by step guide to help you apply the new Silicone Oil treatment to your machine.
Recommended for both E-Davinci and E-Leonardo machines.
How to Replace

your Welding Bar
Step by step guide showing you how to help replace a welding bar on an E-Leonardo machine.
Find more CoLibrì video tutorials at the link below.
E-Leonardo, E-Davinci Machine Repair Service
If the machine is currently covered by its warranty period, our service team will fix your CoLibrì machine in-house free of charge. After the warranty period has ended, service and repairs are available for customers with a Service and Repair Plan. Contact us for details.
Replacements & Refunds,
Trade-in's Welcome
If the good you have purchased is faulty, it can be returned free of charge and we will provide you with a replacement. Refunds are accepted within 30 days of purchase. All packaging & accessories must be in the condition initially supplied for a full refund.
Trade-ins are welcome if you are looking for an upgrade we can offer you a deal on our CoLibrì Book Covering machine packages, click here for details.
New CoLibrì
Anti-Bacterial Eco-Covers
Discover the new 100% recyclable and anti-bacterial, Eco-Covers developed for CoLibrì E-Leonardo and E-Davinci School Book Covering machines.
Customer Support
Fill in the Contact Form below or Call us on +353 1 460 2200